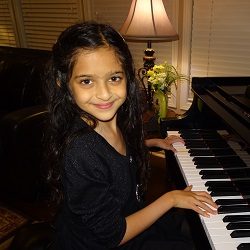 Omaha native Sarah Fernandes began her piano studies at the age of four with Mirela Mlynska and is currently under the tutelage of Dr. Washington Garcia.
Sarah was awarded first prizes at the 2021 Charleston International Music Competition (Romantic Division) and the 2022 American Protege International Piano Competition, which led to her New York debut at Carnegie's Weill Recital Hall at the age of 10. She was also a national finalist at the 2022 American Prize Piano Competition. In 2021, Sarah received a recognition by the University of Nebraska at Omaha (UNO) as KVNO's Classical Kid. This award included an interview with Omaha's classical radio station as well as a performance at the UNO Strauss Performing Arts Center.
Sarah was invited to participate in the 12th Texas State International Piano Festival, where she performed in masterclasses for world-renowned artists Dr. Enrico Elisi, Dr. Joseph Rackers, and Dr. Jason Kwak. From an early age, Sarah has performed in the Nebraska Music Teachers Association District and State festivals and has consistently received Superior ratings in all her performances. She also received Superior ratings in the Omaha Music Teachers Association Trophy Festivals in 2021 and 2022.
Sarah's hobbies include composition, improvisation, math, and science. She also likes listening to music and participating in spelling bee contests. Sarah is currently a fifth-grader at St. Stephen the Martyr School in Omaha and lives in Omaha with her parents, Sharmila Braganza and Dr. Praveen Fernandes, and her two sisters, Rachel and Hannah.